I received some severe art criticism today, and it threw me a bit, because of such a strong misunderstanding of my work. I have shown the painting many times, in different environments, a Catholic University where it was viewed by nuns and priests as well as faculty and students, a state college, and at a small town gallery. And never had anyone interpreted it quite this way. I responded as I feel an artist should respond to any comment, graciously. But I am relieved to say that most viewers have seen this work closer to how I intended it to read.
"To paint such an image and display the Blessed Mother in that type of art form is disgusting and blasphemous. What a shameful form of talent gone to waste.
After bringing forth her Son, Mary "wrapped Him up in swaddling clothes, and laid Him in a manger" (Luke 2:7),
a sign that she did not suffer from the pain and weakness of childbirth.
This inference agrees with the teaching of some of the principal Fathers and theologians: St. Ambrose [56], St. Gregory of Nyssa [57], St. John Damascene [58], the author of
Christus patiens
[59], St. Thomas [60], etc. It was not becoming that the mother of God should be subject to the punishment pronounced in Genesis 3:16, against Eve and her sinful daughters.
Shortly after the birth of the child, the shepherds, obedient to the angelic invitation, arrived in the grotto, "and they found Mary and Joseph, and the infant lying in the manger" (Luke 2:16). We may suppose that the shepherds spread the glad tidings they had received during the night among their friends in Bethlehem, and that the Holy Family was received by one of its pious inhabitants into more suitable lodgings."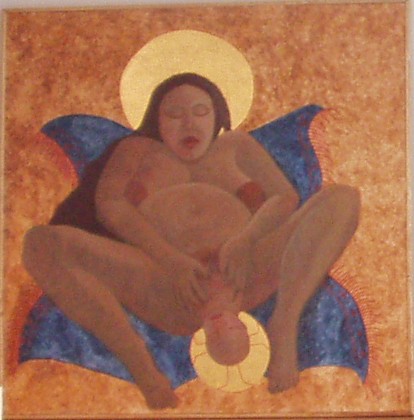 The Crowning by Sara Star
My response:
"Most people who see the painting "The Crowning" see Mary and Jesus's faces as calm and peaceful. I regret to see that you perceive it differently than intended and differently than others who have viewed it. Thank you for your comment. I regret that my art has offended you, but most artists must face offended viewers now and then, though you are only the second in the over five years I have shown this painting to react with disgust. The first person who hated it disliked it because it did not show enough pain and therefore was unrealistic to her, I assumed she did not know of the story of virgin painless birth. Again thank you for your comment.
Sara Star"
I would love to read comments from others who have received harsh criticism and how they dealt with it. Please share in the comments below.